This is an archived article and the information in the article may be outdated. Please look at the time stamp on the story to see when it was last updated.
SAN DIEGO — The city is now six months into its new pothole repair system and officials said Wednesday they're optimistic about its efficiency.
"We're doing fantastic," said Bill Harris, spokesman for the Storm Water and Transportation Department.   "We don't have year-over-year stats, but the crews are more efficient."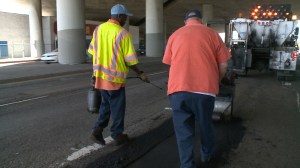 The complaint-based system was revamped.  Now crews spend one day in each of the nine districts so they're essentially in each community every ten days.
"They send out an engineer to the area the day before to see the potholes and then the next day the crew goes out and actually fills the potholes," said City Councilman Mark Kersey. "Then we have other crews that are working on the complaints."
The crews' schedule is shifted now so their day starts earlier. They are able to get to the asphalt supplier earlier and get on the road.
"We're not sending a crew at one hour down to San Ysidro and the next hour to La Jolla or Mira Mesa. It saves a lot of time on the road saves a lot of gas and by grouping things like this it makes it more efficient for community too."
Reports from citizens are prioritized based on severity.
"If there's an emergency situation, we need to do those," said Harris. "If we find a place that's disintegrated, there's been an accident, stuff that's fallen on the road —  we're going to get to that as quickly as possible."
They still depend on the public to report problems.  You can report potholes by calling the hotline at (619) 527-7500.  You can also click here.