This is an archived article and the information in the article may be outdated. Please look at the time stamp on the story to see when it was last updated.
CAMP PENDLETON, Calif. — Crews battled two fires at Camp Pendleton early Friday, including one that grew overnight from 600 acres to 8,000, according to base officials.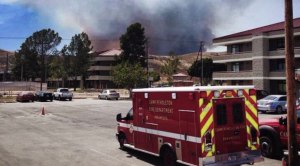 The fast-moving Las Pulgas Fire is 5 percent contained, base officials said. It broke out for unknown reasons about 3:15 p.m. Thursday near a sewage plant in the Las Pulgas area and has led to hundreds of evacuations.
The second fire being fought at Camp Pendleton today — known as the Tomahawk Fire — erupted for unknown reasons around 9:45 a.m. Wednesday and has scorched about 6,300 acres on the eastern outskirts of Camp Pendleton. Base officials said it was 15 percent contained.
The Tomahawk Fire began at the Naval Weapons Station Fallbrook at the edge of Camp Pendleton, then spread onto the sprawling North County Marine Corps installation. The Fallbrook facility lost power and is closed Friday.