This is an archived article and the information in the article may be outdated. Please look at the time stamp on the story to see when it was last updated.
CHULA VISTA, Calif. — Jim Trotter, who has been reporting on the NFL since the early '90s, has published a book about Junior Seau's life as a player and the tragic times that led to Seau's suicide more than three years ago.
Trotter, who now works for ESPN, covered Seau's time with the Chargers. The two became close friends. As a journalist, no one was closer to Seau than Trotter.
"He embodied life. He made everyone feel special, me and every man on the street. When you met him for the first time, he made you feel you were the only person on the planet," Trotter said.
Trotter's book also includes Seau's personal notes kept in a diary.
"It's what he thought were his failings as a man and that was hard to read because it was personal. He talks about not being faithful and how he has to be a better man, talks about wanting to change."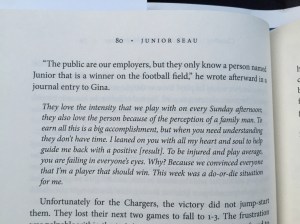 Trotter says he wrote the book to give people a real look into Seau's life without getting into gossip or tabloid journalism.
It also offers an account from Seau's girlfriend, who discovered his body after he shot himself in the chest.