This is an archived article and the information in the article may be outdated. Please look at the time stamp on the story to see when it was last updated.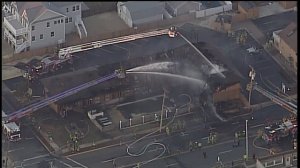 (CNN) — A motel fire on the New Jersey shore killed three people and critically injured three others Friday morning, the Ocean County prosecutor's office said.
The fire at Mariner's Cove Motor Inn in Point Pleasant Beach started just after 5:30 a.m., prosecutor's spokesman Al Della Fave said.
Some of the occupants jumped out of the building or were pulled out, CNN affiliate WABC said. They suffered injuries such as burns and smoke inhalation.
The cause of the fire wasn't immediately known.
Authorities sifted through debris after the building was deemed safe to enter, Della Fave said. Firefighters searched the partially collapsed structure for survivors, WABC said.