This is an archived article and the information in the article may be outdated. Please look at the time stamp on the story to see when it was last updated.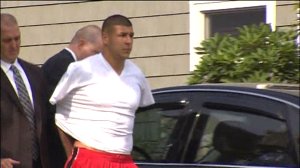 NORTH ATTLEBOROUGH, Massachusetts (CNN) — New England Patriots tight end Aaron Hernandez was handcuffed Wednesday morning and put into a police cruiser outside his home in North Attleborough, Massachusetts.
For the past several days, investigators have been searching the area near Hernandez's home as they continued their investigation into the death of a man whose body was found less than a mile from the house.
Hernandez's lawyer broke his silence Monday, saying his client has been subjected to "a relentless flood of rumors, misinformation and false reports," including unsubstantiated accounts in some media outlets late last week that an arrest warrant had been issued in connection with the investigation.
On Wednesday, about half a dozen plainclothes police officers went to Hernandez's house and then led him out in handcuffs. He was wearing a white T-shirt and shorts.
The nature of his being taken into custody remained unclear. He is likely to be transported to the police department, where he will be told what charges he faces, if any.
Authorities have been tight-lipped since 27-year-old Odin Lloyd's body was found.
On Tuesday, a notice posted at the courthouse said all records relating to the investigation have been "impounded by order of the court."
The move seals all records related to the case, including search warrants.
Lloyd died of a gunshot wound, a law enforcement source with knowledge of the investigation said Thursday.
Lloyd's sister, Olivia Thibou, told CNN that Lloyd and Hernandez were friends who were at a Boston nightclub together a few days before Lloyd's death. She said her brother was dating the sister of Hernandez's fiancee. She did not know when or how her brother and Hernandez met.
Thibou said she did not know of any problems between Hernandez and Lloyd, who worked for a landscaping company. She said she couldn't imagine why anyone would want to kill her brother, whom she described as a friendly guy who was like a father to her 7-year-old daughter.