This is an archived article and the information in the article may be outdated. Please look at the time stamp on the story to see when it was last updated.
OTAY MESA, Calif. – A new drug tunnel was discovered at an Otay Mesa outdoor wood pallet storage facility Tuesday, marking the third such discovery in a month.
Border Patrol agents were seen standing outside the fenced-off Otay Pallets business lot on Marconi Drive, about 1000 feet from the Tijuana-San Diego border.
In Tijuana, federal officers were guarding a house east of the Tijuana airport in an area known as colonia Nueva Tijuana.
That is said to be the south point of the tunnel.
Drug tunnel found in Otay Mesa. Point of origin Colonia Nueva Tijuana east of Rodriguez Airport. More on Fox5 @ 4PM pic.twitter.com/KXDchSuIyX

— Salvador (@SalvadorSDnews) April 19, 2016
Authorities from the US Attorney's Office would not comment on the investigation Tuesday afternoon although they've called for a news conference on Wednesday at the site.
One man who works in the area said he recently became suspicious of the pallet operation, which had been open for about a year.
"Once I saw them put up cameras inside I knew something was going on," said the man who did not want to be identified.
He also said he believes agents found the tunnel on Sunday.
"They were here last night and the night before, I came in and was like what's going on and they said they shut everything down."
Last Friday, a cross-border tunnel was discovered near Calexico by an El Centro Sector Border Patrol agent who was conducting routine patrol duties, CBP agent stated.  The agent noticed a depression in the soil along the banks of the All-American Canal, exposing an 18-inch hole with lumber and electrical wiring inside, according to the release.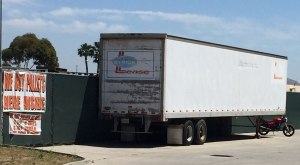 About four weeks ago, four people were arrested after Border Patrol agents located an alleged secret drug tunnel underneath a three-bedroom house in Calexico, authorities said. The tunnel's entrance was inside a restaurant in Mexicali, Mexico.