This is an archived article and the information in the article may be outdated. Please look at the time stamp on the story to see when it was last updated.
SAN DIEGO – Fox 5 is uncovering more information about the events that lead up to a deadly crash on the connector from northbound I-805 to westbound State Route 52 Friday night, that took the lives of three men.
The California Highway Patrol responded and arrested alleged DUI driver William Daniel Cady, 25. He is now facing charges of gross vehicular manslaughter and DUI causing injury.
Authorities said Cady and his friends were at Skybox Sports Grill in Clairemont Mesa Friday night, where they were eventually cut off and offered "resources" for a cab. Instead the group bought more alcohol at a grocery store and then drove to Players Sports Bar in Kearny Mesa.
"Five gentlemen cam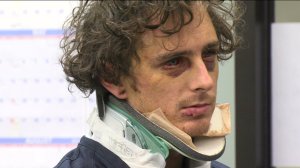 e in, they ordered a couple cocktails at the bar and the other three ordered a pitcher of beer," said Ted Semprini, Players Sports Bar co-owner. "They did go into our dining room where a couple of gentlemen got into a small altercation. They were friends so we didn't think it was going to escalate, but they were just to a point so my bartender and server immediately took the drinks from them without them even consuming any."
Semprini said that's about the time Cady walked inside the bar.
"The driver was in our establishment for 40 seconds," said Semprini. "He appeared, saw the altercation going on, saw that we were actually asking them to leave and the driver did virtually a U-turn and walked out the front door."
Minutes later the group would get into the crash that claimed the life of Jeffery Becker, 35, Taylor Bednarski, 29, and Shon Gilliam, 23. Cady and two others survived.
"It's tough," said Semprini. "It's tough to know these six young kids came in here and three of them, the last time they had any interaction with the public was in our establishment. So it's very tough to swallow. It's a little easier for us to swallow knowing that we did our due diligence. We did everything right, I guess you would say. It's nice to have the endorsement from the CHP saying that we were textbook in the way that we handled the situation."
Semprini said some of the people in the group were "regulars" and would come in a couple times a month.
"They'll come in and shoot some pool and there's never been a problem before," he said. "I've been in this business for 22 years and  there has never been a situation like this where it has really hit home."
According to court documents Cady also spent time behind bars in 2009 for a domestic incident. He currently has a restraining order from an ex-girlfriend.
In her description of the incident she said they argued and when she tried to leave he chased her. At one point in the description she wrote, "He got into his car and started driving around trying to run me over. So I hid."
In her description of the history of abuse, she wrote about his "pattern of jealous and controlling behavior." She described an incident when, "William crushed my phone in front of me and said, 'I told you I don't want you texting…' Moments later he stole my car and drove off violently."
Cady pleaded not guilty in court Wednesday afternoon. He faces 21-24 years in prison if convicted.
The two other survivors are still recovering from their injuries.
"Our hearts just go out to the families, all of them, everybody that's involved," said Semprini. "Because it's not just the families, it's the friends, it's the people that come in here. The veins just go endless."
Semprini hopes others will learn from this and not let their friends drive drunk.
"If you're in a bar, you're 21 and above, you've got to act like an adult, a responsible adult," he said. "The establishment can do so much. We do our due diligence, as hopefully every other place in the country does. It's really up to the individuals to make the right choices."