This is an archived article and the information in the article may be outdated. Please look at the time stamp on the story to see when it was last updated.
SAN DIEGO – A group has launched a campaign to divide California into two states.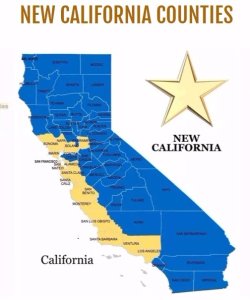 It isn't the first attempt to split California, but unlike a failed campaign in 2016 to divide California into six states, the campaign to create New California would split the state into one made up of rural counties and another made up of coastal counties.
The movement was founded by Robert Paul Preston and Tom Reed. Their website claims that the current state government has established a "Tyranny over the Counties of New California."
"After years of over taxation, regulation, and mono party politics the State of California and many of its 58 Counties have become ungovernable," the organizers write. "The nature of the State becoming ungovernable has caused a decline in essential basic services such as education, law enforcement, fire protection, transportation, housing, health care, taxation, voter rights, banking, state pension systems, prisons, state parks, water resource management, home ownership, infrastructure and many more."
The New California movement issued a "Declaration of Independence," dated Jan. 15, 2018, that uses similar language to the U.S. Declaration of Independence. The document states that the counties of New California "strive to be free from the State of California, and that as a Free and Independent State, have full power to establish and maintain law and order."