This is an archived article and the information in the article may be outdated. Please look at the time stamp on the story to see when it was last updated.
SAN DIEGO — Police detained a new suspect in a deadly series of attacks on the homeless after two more homeless men were assaulted early Friday morning.
Two homeless men were assaulted about 30 minutes apart in downtown San Diego and Golden Hill.
Shortly before 4 a.m., someone struck a man with an unknown object in the vicinity of 13th and A streets, then rode away on a bicycle. A second assault occurred while a 55-year-old man was sleeping near the intersection of 19th and C streets shortly after 4:30 a.m., according to San Diego police.
The later attack was likely related to the killing of three transient men and the severe wounding of another last week, police said.
"There is no doubt in my mind this is part of our series," San Diego Police Capt. David Nisleit told reporters. "This will be linked to the first case that happened on July 3. And we had the two cases on July 4 and the additional case on July 6, and now we have this case."
.@SanDiegoPD: No doubt in my mind Friday's case will be linked to series of homicides against #SanDiego homeless. https://t.co/Iuk3vszE8y

— FOX 5 San Diego (@fox5sandiego) July 15, 2016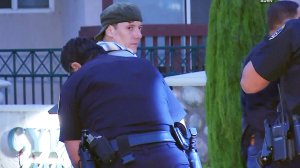 A possible suspect was detained in the vicinity of Laurel and Brant streets in Bankers Hill and was being questioned, police said. His name was not immediately available.
"If it is our guy, we're going to feel very relieved," Nisleit told news crews. "We've been working around the clock."
On Thursday, police released a composite rendering of the unidentified assailant responsible for the attacks. The man was seen in surveillance video buying gasoline at a convenience store shortly before the burning body of 53- year-old Angelo De Nardo was found in an open area off Morena Boulevard in Bay Park on the morning of July 3.
The following day, 41-year-old Shawn Longley was found dead at a park on Bacon Street in Ocean Beach and 61-year-old Manuel Mason was severely wounded near Valley View Casino Center in the Midway district, according to police.
The morning of July 6, 23-year-old Dionicio Vahidy was gravely injured in downtown San Diego and left with a towel burning on top of him. He died in a hospital four days later.
A 36-year-old homeless man was initially jailed on suspicion of carrying out the spate of violence, but was released shortly bef
ore he was due to appear in court on Monday. Anthony Alexander Padgett was freed after detectives uncovered evidence that cast doubt on his guilt.
It was not immediately clear if the two beatings this morning were related or whether either was related to a similar beating in the East Village on Wednesday, or a series of assaults on at least a half-dozen transients around Westfield Horton Plaza last month.
CHECK BACK FOR UPDATES TO THIS DEVELOPING STORY.
Related Content:
Sketch of suspected homeless serial killer released
Man attacked with hammer in latest crime against homeless
Police free man suspected in homeless killing spree
3rd victim from grisly homeless attacks dies
Sleeping homeless man attacked under freeway overpass
Homeless community on edge as search for killer continues
Another man set on fire in string of vicious attacks on homeless
Homeless man killed before being set ablaze
Firefighters battling blaze near I-5 find dead body
Bicyclist attacks homeless with rock, golf club