This is an archived article and the information in the article may be outdated. Please look at the time stamp on the story to see when it was last updated.
SAN DIEGO – Never before seen memorabilia from music superstars is going on display at the Hard Rock Cafe in downtown San Diego.
It's part of the "Treasures of the Hard Rock" traveling exhibit.  A portion of the exhibit pays tribute to music icons have passed away.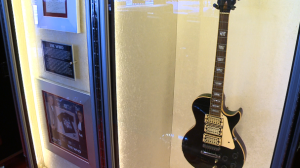 It includes a dress worn by Amy Winehouse during a 2008 concert, and a sequined outfit worn by the late Whitney Houston.
"We wanted to give fans a chance to get up close and personal with the belongings of some of the most popular artists," said Selin Demren with the Hard Rock Cafe San Diego.
The exhibit features a sweater worn by Buddy Holly as well as the wallet he was carrying for his guitarist when the plane crashed and killed the iconic singer.  Jimmy Hendrix's guitar is also on display as well as the contract he signed just before becoming a big star.  Fans of Shakira can see the black sequined pants suit she wore during her 2007 tour.
The collection also includes Pete Townshend's custom Gibson Les Paul guitar as well as a guitar crafted by Brian May of Queen.
"These really are special one of a kind pieces," said Demren.
The display is free and open to the public and runs from Thursday until April 17th.