This is an archived article and the information in the article may be outdated. Please look at the time stamp on the story to see when it was last updated.
(CNN) — Nelson Mandela — the iconic world figure who spent decades fighting apartheid and led his native South Africa as its first black president — died Thursday after years of health ailments, South Africa's president said.
Mandela was 95.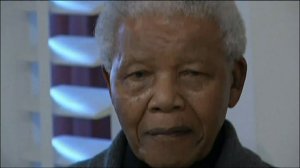 "He is now resting. He is now at peace," President Jacob Zuma said late Thursday. "Our nation has lost its greatest son. Our people have lost a father."
The man known widely by Madiba, his clan name, died Thursday night surrounded by his family. Zuma said a state funeral will be held. Until then, he's ordered all flags around the country to be flown at half-staff.
The African National Congress — the political party long associated with Mandela — said "our nation has lost a colossus, an epitome of humility, equality, justice, peace and the hope of millions."
"The large African Boabab, who loved Africa as much as he loved South Africa, has fallen," the party said in a statement, comparing Mandela to a sturdy tree found in Africa. "Its trunk and seeds will nourish the earth for decades to come."
Throngs gathered outside Mandela's house in a Johannesburg suburb after word of his death was announced, people of all races who sang, spoke and otherwise paid tribute to the late leader.
F.W. de Klerk, South Africa's last white president, said that "Mandela's biggest legacy … was his remarkable lack of bitterness and the way he did not only talk about reconciliation, but he made reconciliation happen in South Africa."
"He was a remarkable man," de Klerk told CNN's Christiane Amanpour. "And South Africa, notwithstanding political differences, stands united today, in mourning."
While the pain resonated most in his homeland, news of Mandela's death echoed worldwide.
Moments after Zuma spoke, the U.N. Security Council had a moment of silence in his honor, with Secretary-General Ban Ki-moon later calling Mandela "a giant for justice and a down-to-earth inspiration." Irish leader Enda Kenny said Mandela's name "became synonymous with the pursuit of dignity and freedom across the globe."
"A great light has gone out in the world," tweeted British Prime Minister David Cameron. "Nelson Mandela was a hero of our time."
Reaction from U.S. politicians was similarly swift, with ex-Presidents George H. W. Bush calling Mandela "a man of tremendous moral courage" and Bill Clinton remembering him as "a man of uncommon grace and compassion, for whom abandoning bitterness and embracing adversaries was not just a political strategy but a way of life."
"We've lost one of the most influential, courageous and profoundly good human beings that any of us will share time with on this earth," said current U.S. President Barack Obama, the first black leader of his own country who said his first public activism was an anti-apartheid protest. "He no longer belongs to us. He belongs with the ages."
The immensely popular leader largely stayed out of the public spotlight in recent years due to his medical issues, including a hospitalization for a lung infection in June.
On September 1, Mandela was discharged from a Pretoria hospital where he had been receiving treatment since June, according to Zuma's office. He was moved to a home in the Johannesburg suburb of Houghton, where a bedroom was transformed into something akin to an intensive care unit, according to his ex-wife, Winnie Madikizela-Mandela.
Last month, Madikizela-Mandela told South Africa's Sunday Independent newspaper that tubes used to clear his lungs meant to prevent infections also made it so that he could not speak. She said then that he "remains quite ill," with doctors tending to him regularly.
"He communicates with the face, you see," Madikizela-Mandela told the newspaper then.
His history of lung problems dates to his days in Robben Island, where he was imprisoned for 27 years as part of his fight to overturn the country's system of racial segregation.
Mandela emerged from prison more prominent than ever and in 1994 — four years after his release and one year after earning the Nobel Peace Prize with de Klerk, who was then South Africa's president — he became South Africa's first black president.
He left the presidency in 1999, but remained one of South Africa's most respected and revered international ambassadors, a model for world and particularly African leaders.
And a new generation has been introduced to him through movies like "Invictus" and "Long Walk to Freedom." Idris Elba — who played Mandela in the latter film, which is based on his autobiography and came out last month — called it an honor to "portray a man who defied odds, broke down barriers and championed human rights before the eyes of the world."
His last high-profile public appearance came in 2010, when South Africa hosted soccer's World Cup. His family members and South African officials have updated the public on his life since, including numerous hospitalizations and his eventual return to his
Mandela has been hailed as a pioneer, a statesman, a hero, someone who maintained his easy smile and demeanor after decades of turmoil. To many South Africans, he was known by his traditional clan name of Madiba; other simply, affectionately called him Tata — the word for father in Xhosa tribe.
"What made Nelson Mandela great was precisely what made him human," said Zuma. "We saw in him what we seek in ourselves."