This is an archived article and the information in the article may be outdated. Please look at the time stamp on the story to see when it was last updated.
SAN DIEGO — It's a job that no one should have to do. But Gaby Perez-Vargas insists it's one she has to.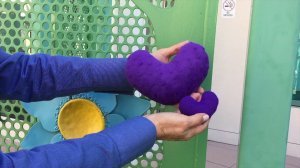 Starting in the summer, and ending each October for the past six years, Perez-Vargas has delivered 35 sets of sewn stuffed hearts to Rady Children's Hospital. She says it's the least she can do for families who need them the most.
The purple hearts come in pairs—one big one, and one little one—and they go to families who have lost a child. The big one goes to the family to hold onto, and the little one is placed in the child's hand.
The reason purple was chosen by JoAnne Auger, who started the program, is because purple hearts symbolize courage and bravery in battle. And for those families that don't get the fairytale ending that others do after cancer treatment, it's a handful of comfort that might give them something tangible to connect them to their child.
Perez-Vargas says she is diligent about making each heart perfect.
"Believe me, these are made with a lot of love," she said.
Jose Montano knows first-hand. He received one of the big hearts, when his son, also named Jose, died in 2014.
"That heart, every time we see it, we go back to knowing that somebody was there for us, and we see that heart, and we see Jose," he said.
Their hope is that—no matter how small a symbol it is—the hearts help a family deal with the pain of going through the biggest loss of their lives. And even though it won't fix a broken heart, that it might start the process of putting it back together, one stitch at a time.