This is an archived article and the information in the article may be outdated. Please look at the time stamp on the story to see when it was last updated.
LA MESA, Calif. — A U.S. Navy veteran from Spring Valley who served his country for more than 30 years also saved dozens of lives.
John O'Loughlin was honored Wednesday with a flag-raising ceremony at Sharp Grossmont Hospital.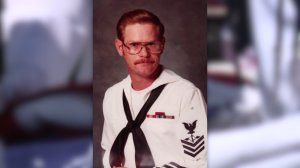 "I'm just really proud of that. His father was also retired Navy, his older brother also retired Navy, so they're a Navy family," said John's wife, Sofia O'Loughlin.
John served for 34 years in the U.S. Navy and then the reserves. He saw the world while stationed aboard ships including the U.S.S. Enterprise, Ranger and Forrestal. When he finished serving his country, he continued his passion as a Naval contractor.
Three days after returning from a routine 6-month deployment to Saudi Arabia in December 2013, John suddenly fell ill.
"Turns out he had a minor stroke but when he had fallen, it had ruptured an aneurysm in his head," Sofia said. "And then that just consumed him."
Three days later, John died at Sharp Grossmont Hospital in La Mesa and Sofia had to make a choice.
"We don't need our organs anymore because we're gone, you know? And if we could pass that on to somebody to save somebody, we're definitely open to that," Sofia said.
As an organ donor, John went on to save three lives, give sight to two people and help 50 others as a tissue donor. One of those recipients was a woman from the East Coast who told Sofia her husband saved her life with his gift of his kidneys.
"I was just floored when she called me," said Sofia. "She said she has a picture of my husband in her house and she gives thanks every day. It's just amazing."
As a thank you for John's gift of lives, he was featured in this year's Donor Life Rose Parade float.
At the ceremony at the hospital, John's floral picture was given to Sofia, as well as the flag for his service to his country and now his community.
"I'm just so thankful because for me, he lives on, he lives on," Sofia said.
This year, the Donor Life program at Sharp Grossmont Hospital has saved 42 lives. On average, a person who donates organs can save up to eight lives.