This is an archived article and the information in the article may be outdated. Please look at the time stamp on the story to see when it was last updated.
SAN DIEGO – Six-hundred, eighty-eight Patrick Henry High School students stayed home Friday after a threatening message was found on campus one day earlier, San Diego Unified School District officials confirmed.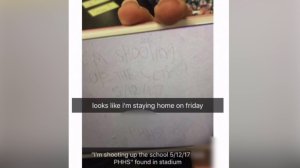 Around 8:40 a.m. Thursday, a threatening message was discovered written on a handball court on campus.
After a Snapchat picture of the threat circulated among students, administrators called in San Diego Unified School District police officers to help investigate.
A student who saw the photo shared it with FOX 5. Written in pencil, the message read: "I'm shooting up the school 5/12/17."
In an email sent home to parents that day, the principal said administrators are looking into the matter.
"If there is a credible threat we will let out families know. I don't believe it was aimed at a student or anyone at Patrick Henry," the email read.
The principal also sent FOX 5 a statement that read:
"It has been solved. We know the student. It was a joke. They are very sorry. They realize they shouldn't have done that."