This is an archived article and the information in the article may be outdated. Please look at the time stamp on the story to see when it was last updated.
SAN DIEGO — A law enforcement operation to crackdown on San Diego-area gangs involved in serious cross-border crime nabbed hundreds of suspects, authorities announced Monday.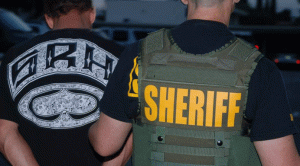 Local, state and federal law enforcement officers made the arrests Friday night and early Saturday morning during the fourth staging of a sweep designed to reduce drug smuggling, human trafficking and other illicit activities committed by transnational criminal organizations, according to the county Sheriff's Department.
During the effort, dubbed Operation Allied Shield IV, more than 1,000 officers conducted parole and probation checks and traffic stops, served search warrants to locate prolific gang offenders and seized stashes of cocaine, heroin, marijuana and methamphetamine.
Among the felony arrests, 36 were for outstanding warrants and 44 were for parole and probation violations.
The sweep, which focused on areas in the southern and eastern reaches of the county, was funded by a $5.5 million grant from the Department of Homeland Security, according to sheriff's officials.
The program began in 2010, prompted by intelligence showing that transnational criminal organizations, including Mexican drug cartels, had enlisted the assistance of gangs in the United States to further their operations.