This is an archived article and the information in the article may be outdated. Please look at the time stamp on the story to see when it was last updated.
OCEANSIDE, Calif. — The North County Transit District will not consider banning the consumption of alcoholic beverages aboard its Coaster trains next month as originally planned, the agency announced Wednesday.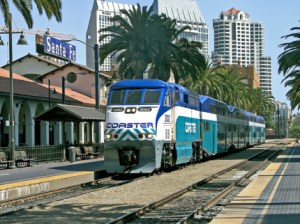 District staff wants to sift through a large amount of feedback received since the issue was raised last week.
"NCTD has received robust public feedback about the proposed policy change and this delay will allow staff the time to fully consider this feedback and to review other policy, and safety and security considerations," said Matthew Tucker, the agency's executive director.
The NCTD also said it would study the impact of an increased presence of sheriff's deputies and code enforcement personnel aboard the trains if the proposed ban was implemented. A working group of customers and stakeholders will be formed to review alternatives.
The evaluation could take several months, according to the NCTD.
Booze isn't sold aboard Coaster trains, but people are allowed to bring on open containers and consume alcoholic beverages until 9 p.m. The time restriction was instituted four years ago, in reaction to frequent reports of rowdy behavior and drunken brawls aboard late northbound runs following weekend Padres games.