This is an archived article and the information in the article may be outdated. Please look at the time stamp on the story to see when it was last updated.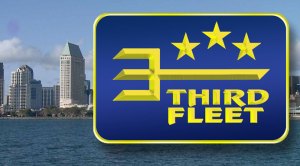 SAN DIEGO — The San Diego-based Third Fleet, created when the U.S. Navy was just beginning to take the fight toward Japan during World War II, turned 70 years old Friday.
The unit was formed at Pearl Harbor, Hawaii, on March 15, 1943 and originally placed under the command of Fleet Adm. William F. "Bull" Halsey.
In an unusual arrangement, Halsey rotated command with Adm. Raymond Spruance. The same ships and sailors made up the Fifth Fleet when led by Spruance.
The force — which now includes four aircraft carrier strike groups, six destroyer squadrons and three amphibious squadrons — currently is under the command of Vice Adm. Gerald Beaman. The fleet headquarters moved to San Diego in 1991.
"Third Fleet was designed and answered a call to our nation to provide security and stability to the maritime domain and here we are 70 years later still providing that service with and for our partners and allies," Beaman said.
Beaman said the Third Fleet is continuing its role in protecting the collective maritime interests of the U.S., allies and partners in the Pacific. The fleet covers the northern and eastern Pacific Ocean.
"The fact our founding father was Fleet Adm. William F. `Bull' Halsey speaks a lot about the rich heritage of this command and Third Fleet in particular," Beaman said. "His motto was `Hit hard, hit fast and hit often' and I think we've maintained that throughout the history of Third Fleet."
The Navy has been observing the anniversary by sending emails to sailors with historical facts and photographs, and displays of posters at area bases.
"It's incredible to learn how great of an impact Third Fleet had during World War II," said Intelligence Specialist 2nd Class Janet Ringleman. "Learning about my command's history makes me proud to serve my country and to be a part of the Third Fleet staff."