This is an archived article and the information in the article may be outdated. Please look at the time stamp on the story to see when it was last updated.
VISTA, Calif. — Prosecutors Wednesday filed a special circumstance allegation of lying in wait against a Camp Pendleton Marine corporal charged with murdering a Navy veteran whose body was found inside his SUV in Fallbrook.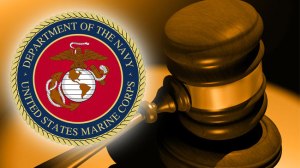 Kevin Albert Richard Coset, 23, could face the death penalty or life in prison if convicted in the death of 24-year-old Alvin Bulaoro.
Coset also faces allegations that he used a knife and a firearm in the Bulaoro's murder.
A preliminary hearing is scheduled Monday in Vista for Coset, who was taken into custody Feb. 22 at Camp Pendleton after homicide detectives obtained a warrant for his arrest.
The victim's body, showing signs of trauma, was found on the evening of Jan. 3 zipped inside a sleeping bag in the back seat of his Toyota 4Runner in a parking lot in the 1100 block of South Mission Road, said San Diego County sheriff's Capt. Duncan Fraser.
Members of Bulaoro's family found the SUV after previously reporting him missing. They had last seen him on Dec. 21, Fraser said.
No motive for the slaying was released.
Bulaoro was a U.S. Navy veteran who later served as a second lieutenant in the U.S. Army Reserve. The victim worked as an administrator in a family- owned home healthcare business.