This is an archived article and the information in the article may be outdated. Please look at the time stamp on the story to see when it was last updated.
CORONADO, Calif. – For the first time, the Navy will use drones, including life-sized remote control helicopters, and traditional aircraft in the same squadron.
On Thursday, the Navy established the new Helicopter Maritime Strike Squadron 35.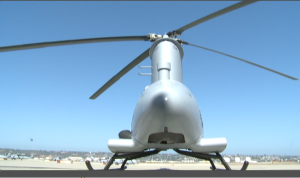 The pilots and crew known as "the Magicians" will be the first in the Navy to use both manned and unmanned helicopters.
"This is a blank slate," HMS 35 Commanding Officer Christopher Hewlett said. "I've got a bunch of young enthusiastic petty officers and officers who work for me and it's a great thing to watch them go forward and grab a hold of this idea."
The Fire Scout MQ-8 B is the star of the show. It's the same size as a commercial helicopter, but it flies by remote control, it can stay in the air longer and go up to 110 miles away.
That makes it perfect for anti-submarine and anti-surface warfare in coastal areas.
"I do not refer to these as drones," Commander of Naval Air Forces, Vice Admiral David Buss said. " When we use unmanned systems at the tactical level like this squadron will, there's a sense of ownership by the squadron."
The HMS Squadron 35 IS scheduled to deploy in the South Pacific Spring of next year.