This is an archived article and the information in the article may be outdated. Please look at the time stamp on the story to see when it was last updated.
SAN DIEGO — The San Diego Padres will conduct U.S. Navy Appreciation Day at today's game against the Los Angeles Dodgers at Petco Park, part of the team's full season of Sunday military salutes.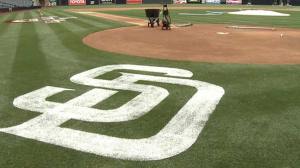 A pregame ceremony in honor of the U.S. Navy will include sailors lining the base paths. Navy Band Southwest will perform the national anthem. Rear Adm. Dixon Smith, commander of Navy Region Southwest, and his wife Kiki, will throw the ceremonial first pitch.
As with all Sunday games at Petco Park, the Padres will wear their Marine digital camouflage uniforms.
A large crowd and heavy traffic are expected for the 1:10 p.m. game. Fans are encouraged to arrive early, utilize public transportation or pre- purchase parking passes online on the team's website, padres.com. Traffic and parking updates will be posted at padres.com/traffic.
New Express Entry lanes will be open at each gate. Fans without bags or purses will be directed by signage and team staff to enter immediately without waiting in a bag search line.