This is an archived article and the information in the article may be outdated. Please look at the time stamp on the story to see when it was last updated.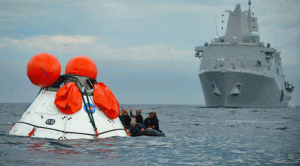 SAN DIEGO – A San Diego-based amphibious ship assisted NASA with testing their new Orion manned spaceship in the ocean over the weekend.
The exploration spaceship "Orion" will carry astronauts to places where humans have not explored yet, including Mars and an asteroid.
Prior to the spaceship's first flight, scheduled for later this year, NASA is testing it for various parts of the expected journey.
Over the weekend, NASA transported Orion to Naval Base San Diego where it was loaded aboard the USS Anchorage and taken to sea for recovery testing.
NASA originally conducted recovery testing in February and discovered the vessel would need to handle rough ocean conditions. Since, they modified it and had a successful recovery test.