This is an archived article and the information in the article may be outdated. Please look at the time stamp on the story to see when it was last updated.
SAN DIEGO – A private memorial was held Thursday morning in honor of the Coronado-based Navy SEAL killed in Iraq last week.
Petty Officer First Class Charles Keating IV was posthumously promoted to chief petty officer before the memorial. The U.S. Navy awarded the Silver Star and Purple Heart to Keating during the ceremony.
Thursday's ceremony had quite a turnout – as family, friends, fellow SEALS and members of the military community filed into Tidelands Park to pay tribute.
"Moderation is for cowards, was kind of his motto… and so whatever he did he did it with all of his strength," said U.S. Navy Chaplain Dennis Kelly. "He lived life, he was passionate about life and he had a joy that was throughout everything that he did."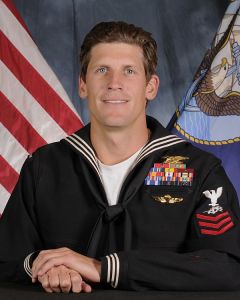 Keating's body arrived Thursday to Naval Air Station North Island met by his family, friends and members of SEAL Team One.  They were accompanied by over 100 Patriot Guard Riders who escorted the remains and loved ones.
A private memorial will be held at Fort Rosecrans National Cemetery Friday. Anyone who wants to pay respects can line the processional route along Sixth Street in Coronado around noon.
"This is helpful everybody to come out and show their support and say if this were to happen to me I know that I would have the support of my brothers and sisters that I stand shoulder to shoulder with today," Kelly said.
Keating was fatally shot in a battle with Islamic State forces north of Mosul. He was 31.
Chuck was promoted to Chief yesterday and awarded the Silver Star and Purple Heart today. He died a warriors death. https://t.co/w0hp11QRFL

— Jared Ogden (@JaredWOgden) May 12, 2016
Thank you SO1 Keating for your service, dedication and bravery.You will be remembered @JaredWOgden @TriumphSystems pic.twitter.com/Uu3mkqXnC8

— Jerry Hebert (@JerryHebert7) May 12, 2016