This is an archived article and the information in the article may be outdated. Please look at the time stamp on the story to see when it was last updated.
SAN DIEGO – The commander of a Navy combat helicopter squadron was arrested Monday on suspicion of attempted rape and assault.
Cmdr. John Michael Neuhart, 39, was booked into San Diego Central Jail Monday afternoon on felony counts of attempted forcible rape and assault. His bail was set at $100,000. As of Tuesday morning, Neuhart was no longer in jail.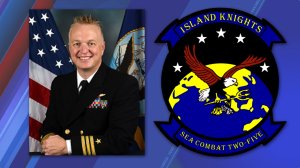 Navy Cmdr. Jeannie Groeneveld confirmed Neuhart's arrest and said that the Navy was fully cooperating with local authorities in the investigation, but she said she could not comment on the ongoing investigation.
Neuhart trained with a Coronado-based helicopter anti-submarine squadron in 2002, according to a Navy biography. He graduated from the United States Naval War College in 2015 with a Masters of Arts in National Security and Strategic Studies and completed 36 combat missions in Iraq.
San Diego police Lt. Paul Phillips provided details about the incident and charges against Neuhart.
Neuhart is expected back in court on September 19 at 1:30 p.m.