This is an archived article and the information in the article may be outdated. Please look at the time stamp on the story to see when it was last updated.
SAN DIEGO – Details of what led to the arrest of the commander of a Navy combat helicopter squadron were revealed by San Diego police Tuesday afternoon.
A woman in her 20s was with a group of friends at a Hyatt in downtown San Diego Monday night and they saw 39-year-old Cmdr. John Michael Neuhart, who was at the same hotel, according to San Diego police Lt. Paul Phillips.
The group, who knew Neuhart, talked to him for some time before the woman decided to leave and go to her Valencia Park-area home, Phillips said. Neuhart also went to her home, the detective said.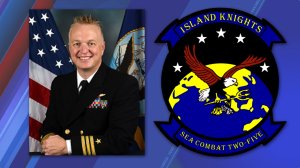 "When they got to the residence, the suspect entered the house with the victim,'' the lieutenant said. "The suspect immediately became forceful with her and attempted to sexually assault her. She was able to fight him off and ... began screaming very loudly.''
A neighbor who heard screaming coming from the woman's house walked up to a window and asked if her if she was alright, Phillips said. The victim told him "no" and he called police.
The neighbor saw a man run out the back door of the residence and into a canyon, Phillips said.
When officers arrived, the neighbor flagged them down and pointed out the direction the suspect ran. Officers caught the man in the canyon, according to Phillips.
Neuhartwas booked into San Diego Central Jail Monday afternoon on felony counts of attempted forcible rape and assault.
His bail was set at $100,000. As of Tuesday morning, Neuhart was no longer in jail. Neuhart is expected back in court on September 19 at 1:30 p.m.
Both the victim and suspect serve in the U.S. Navy, police said.
Navy Cmdr. Jeannie Groeneveld confirmed Neuhart's arrest and said that the Navy was fully cooperating with local authorities in the investigation, but she said she could not comment on the ongoing investigation.
Neuhart trained with a Coronado-based helicopter anti-submarine squadron in 2002, according to a Navy biography. He graduated from the United States Naval War College in 2015 with a Masters of Arts in National Security and Strategic Studies and completed 36 combat missions in Iraq.
Anyone with information about the investigation has been asked to contact SDPD Sex Crimes Unit at 619-531-2210.