This is an archived article and the information in the article may be outdated. Please look at the time stamp on the story to see when it was last updated.
SAN DIEGO – Due to the automatic cuts mandated by the sequestration budget deal, the Navy has cancelled plans to send ships to community events in Los Angeles, Portland, Ore., and Seattle.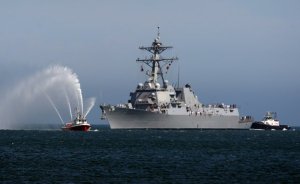 For the same reason, the Navy will not reposition any ships from San Diego bases to be part of San Diego Fleet Week.
"We are prioritizing funding for operations, training and maintenance," said a spokesman for the San Diego-based 3rd Fleet. "As a result of that, we have canceled ship visits to Portland Rose Festival, Seattle SeaFair, and Los Angeles Navy Days."
Last August, the Navy destroyer Wayne E. Meyer came to the Los Angeles port in San Pedro for a variety of events. The public was invited to visit the ship, and sailors were feted at the Redondo Elks Club, visited the Ronald Reagan Library and attended an Angels game.
The visit cost $259,957, including $128,260 in fuel, the Navy said.
Also last year, three warships were sent to the Portland Rose Festival and to the Seattle SeaFair at a cost of $465,094 and $697,150, respectively, the Navy said.
"We certainly value the opportunity to showcase our Navy to the American people and we intend to continue Fleet Weeks in the future as the budget permits," the spokesman said.
How sequestration will change plans for sending ships to San Francisco Fleet Week has not been decided since that event is not in the current fiscal year, the spokesman said.
The Navy's famed Blue Angels aerial demonstration team has canceled all of its performances for the rest of the calendar year, including at air shows in San Diego, Ventura and San Francisco.