This is an archived article and the information in the article may be outdated. Please look at the time stamp on the story to see when it was last updated.
SAN DIEGO — A natural gas leak caused closures along Mission Boulevard and a power shutdown in Mission Beach Wednesday afternoon, authorities said.
The leak, which SDG&E officials said was caused by a 3/4-inch gas main break, was reported along Strandway near Yarmouth Court around 11:30 a.m., according to the San Diego Fire-Rescue Department.
Authorities shut down southbound Mission Boulevard from Pacific Beach Drive to traffic as crews worked to fix the leak.
"Construction crews were working in a trench and dislodged some material that caused it to fall down on a natural gas pipe and either sheared off a connection or punctured a hole in the pipe itself," said Battalion Chief Craig Newell with the San Diego Fire-Rescue Department.
As of 1:15 p.m., the leak had not yet been controlled and SDG&E crews were unsure as to when the break might be fixed.
Shortly before 3 p.m., authorities expanded the evacuation zone from Zanzibar Court to Verona Court and Mission Boulevard to Ocean Front Walk. Sixty people were affected by the evacuation orders, according to the San Diego Fire-Rescue Department.
The American Red Cross opened a shelter for evacuees at the Pacific Beach Recreation Center. San Diego Humane Society's emergency response team was there to help with affected pets.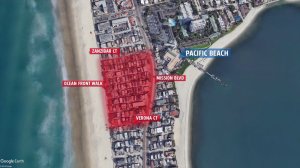 About 60 people have been evacuated because of this incident. Red Cross has been requested to assist displaced folks. Please avoid the area if you can. Southbound Mission Blv at Pacific Beach Dr is closed to traffic.

— SDFD (@SDFD) October 3, 2019
SDG&E turned off the power to 374 customers in the area around 4:20 p.m. as crews continued to work on repairs.
SDG&E officials said up to 1,000 customers might be affected by gas outages as crews worked to fix the break.
No injuries were immediately reported in connection with the leak.