This is an archived article and the information in the article may be outdated. Please look at the time stamp on the story to see when it was last updated.
 SAN DIEGO – People with expired or unneeded prescription drugs can safely dispose of them during the U.S. Drug Enforcement Administration's seventh National Prescription "Take Back Day."
Law enforcement agencies, military bases, hospitals, universities and businesses across the San Diego area will accept dropped-off medications between 10 a.m. and 2 p.m., according to the DEA. The service is free and anonymous, with no questions asked.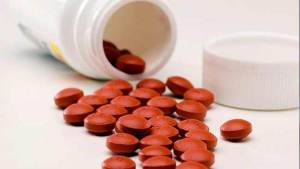 During the previous installment of the campaign, in April, the federal agency and its law enforcement partners collected about 9,850 pounds of unused prescription drugs in San Diego and Imperial counties, officials reported.
Nationally, citizens turned in some 371 tons of medications at 5,800 locations.
"The success we have had in our prior take-back events demonstrates that keeping these potentially deadly drugs out of the hands of our youth is also a priority for the (public)," said San Diego-area DEA Special Agent in Charge William Sherman.
Prescription drugs often fall into the hands of recreational users, including youths who take the substances from unsuspecting adults, or are improperly discarded, posing public-health risks, according to medical and law enforcement officials.
A 2011 Substance Abuse and Mental Health Services Administration survey found that twice as many Americans regularly abused prescription drugs than the number of those who habitually used cocaine, hallucinogens, heroin and
inhalants combined.

The study also revealed that more than 70 percent of people abusing prescription pain relievers got them through friends or relatives.
Medications may be dropped off at any of the following locations in San Diego County:

Central
— Belmont Park, 3146 Mission Blvd. (south parking lot);
— Mesa College police substation, 7250 Mesa College Drive, San Diego;
— North Park Lions Club, 3927 Utah St., San Diego;
— San Diego County Juvenile Hall, 2801 Meadow Lark Drive, San Diego;
— San Diego Hall of Justice, 330 W. Broadway;
— San Diego Police Department Eastern Division station, 9225 Aero Drive;
— SDPD Northwestern Division station, 12592 El Camino Real;
— SDPD Southeastern Division station, 7222 Skyline Drive;
— SDPD Western Division station, 5215 Gaines St.;
— Scripps Green Hospital, 10666 N. Torrey Pines Road, San Diego;
— Sharp Health Care corporate offices, 8695 Spectrum Center Blvd., San Diego;
— University of California San Diego, parking lot 705, Voigt and Campus Point drives; and
— Veterans Administration Hospital, 3350 La Jolla Village Drive, San Diego.

Eastern
— Alpine Sheriff's Station, 2751 Alpine Blvd.;
— El Cajon Police Department headquarters, 100 Civic Center Way;
— La Mesa Police Department headquarters, 8085 University Ave.;
— Lemon Grove Sheriff's Station, 3240 Main St.;
— San Diego State University (parking information booth), 6095 Canyon Crest Drive;
— Sycuan Tribal Police Station, 5522 Sycuan Road, Dehesa;
— Walgreens, 10512 Mission Gorge Road, Santee; and
— Walgreens, 9728 Winter Gardens Blvd., Lakeside. 
Northern
— Albertsons, 1459 Main St., Ramona;
— Escondido Police Department headquarters, 1163 N. Centre City Pkwy.;
— Fallbrook Sheriff's Station, 388 E. Alvarado St., Fallbrook;
— Kaiser Permanente San Marcos, 400 Craven Road;
— Poway Sheriff's Station, 13100 Bowron Road;
— Scripps Coastal Medical Center, 2176 Salk Ave., Carlsbad;
— Scripps Encinitas Hospital, 354 Santa Fe Drive;
— Scripps Rancho Bernardo Clinic, 15004 Innovation Drive, San Diego; and
— Tri-City Medical Center, 4002 Vista Way, Oceanside.
Southern
— Coronado Police Department headquarters, 700 Orange Ave.;
— Imperial Beach Sheriff's Station, 845 Imperial Beach Blvd.;
— Kaiser Permanente Otay Mesa, 4650 Palm Ave., San Diego;
— National City Police Department headquarters, 1200 National City Blvd.;
— Scripps Mercy Hospital Chula Vista, 435 H St.; and
— Southwestern College, 900 Otay Lakes Road, Chula Vista (parking lots B and C).  
Military (active-duty and retired service personnel, beneficiaries and staff only)
— Marine Corps Air Station Miramar Exchange, Building 2660, Elrod Ave.;
— Naval Hospital Camp Pendleton (near pharmacy building);
— Naval Medical Center San Diego, 34800 Bob Wilson Drive (Baxter Circle, between Buildings 2 and 3);
— Navy Exchange, Naval Base San Diego, 2260 Callagan Highway; and
— Twenty Area (Pacific Plaza) parking lot, Wire Mountain Road and Vandegrift Boulevard, Camp Pendleton.