This is an archived article and the information in the article may be outdated. Please look at the time stamp on the story to see when it was last updated.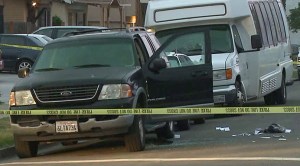 SAN DIEGO — Authorities Friday released the name of a 45-year-old man gunned down on a City Heights roadside by an unidentified bicycle-riding killer.
Patrol officers responding to reports of gunfire found Alberto Sanchez of San Diego mortally wounded in his bullet-riddled SUV at the intersection of 41st Street and Orange Avenue shortly after 6 a.m. Wednesday, according to police.
Medics took Sanchez to Scripps Mercy Hospital, where he was pronounced dead from gunshot wounds to his upper body, homicide Lt. Mike Hastings said.
At least one witness told detectives the shooter, a dark-skinned man in his 20s in jeans and a dark sweat shirt, opened fire while on a bicycle and then rode away.