This is an archived article and the information in the article may be outdated. Please look at the time stamp on the story to see when it was last updated.
SAN DIEGO — Authorities Wednesday released the name of a police officer who fatally shot a kidnapping suspect at the end of a weekend road chase from Kearny Mesa to Escondido.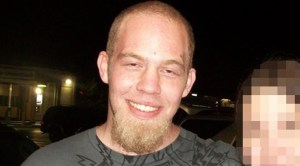 Richard Butera, an 11-year member of the San Diego Police Department, opened fire Sunday morning on Aaron Devenere after the 45-minute pursuit came to an end on Centre City Parkway, near Country Club Lane, SDPD Lt. Mike Hastings said.
Devenere, 27, had been riding in a truck whose driver fled from a traffic stop shortly before 7 a.m. on Interstate 15, near Aero Drive. He allegedly claimed to have a pistol and a bomb while talking to 911 operators during the 25-mile chase.
Though Devenere turned out to be unarmed, the driver of the Toyota pickup believed he was holding her at gunpoint and sped away from officers "out of fear that Devenere might harm her," according to Escondido police Lt. Neal Griffin.
"The victim said that Devenere had an object pushed against her side that she was certain was a gun," Griffin said. "In order to control her movements, Devenere grabbed the victim by the hand and threatened to break her fingers. The victim did, in fact, sustain a sprain to one of her fingers from the suspect's actions."
Devenere, a San Diego resident, spoke to police dispatchers throughout the chase, referring to the driver of the truck as his hostage and threatening to shoot her, Griffin alleged.
When an emergency operator sought to confirm that Devenere had a gun, he replied that he did and also was armed with "an explosive device," according to the lieutenant.
The woman — who knew Devenere and initially had been driving with him voluntarily — eventually ran over a police spike strip that flattened two of her tires and forced her to pull over on Centre City Parkway, near Country Club Lane.
"When the victim (stopped) along the side of the road, officers on scene believed (she) was an imminent danger of being killed," Griffin said.
Butera fired a single shot at Devenere, killing him at the scene.
The driver later told police she initially thought Devenere had shot himself, "indicating how convincingly he had feigned to be armed," Griffin said.
The only potential weapons found in the truck were some knives in the cargo bed.
Medics took the woman, whose name was not released, to Palomar Medical Center for treatment of injuries allegedly inflicted by Devenere. She was not expected to face any charges over the pursuit.
"The Escondido Police Department considers her the victim of a kidnapping," Griffin said.