This is an archived article and the information in the article may be outdated. Please look at the time stamp on the story to see when it was last updated.
VISTA, Calif. — Four suspects in the fatal shootings at Oceanside's Libby Lake Park entered not guilty pleas to all allegations Wednesday afternoon.
Martin Melendrez, 21, Michael Zurita, 19, Santo Diaz, 19, and Kevin Brizuela, 17, appeared before Judge Kimberlee Lagotta for arraignment. Though Brizuela is a juvenile, he is being charged as an adult.
Melanie Virgen, 13, and Edgar Sanchez, 15 were killed in the shooting. Two other teens were injured, but are expected to survive.
The suspects face two counts each of murder and two counts each of attempted murder.
Deputy District Attorney Christine Bannon requested they be held without bail. Judge Lagotta agreed to the request.
"Given the extreme danger to the community of each and every one of these defendants and the extreme risk of flight to the community robbing them of justice," said Bannon.
Investigators have tied the crimes to a gang related shooting and said each of the victims was shot multiple times. They do not believe the victims had any involvement with a gang.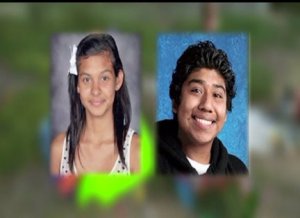 "I can't imagine what it's like for the families," said Bannon. "It has to be something that's indescribable in terms of the level of pain that the families have to go through. A fear that persists. Gangs are a plague in the community. When they commit a violent act against an individual unprovoked in the community, it terrifies everyone else."
If convicted, Brizuela faces life in prison because he was under 18 when the crime was committed. The other three suspects could face the death penalty. That decision would be up to the district attorney.