This is an archived article and the information in the article may be outdated. Please look at the time stamp on the story to see when it was last updated.
[UPDATE: The stabbing suspect has died.]
SOLANA BEACH, Calif. – A man suspected of stabbing someone at Rubio's in Solana Beach was injured in a shooting with deputies Monday, authorities said.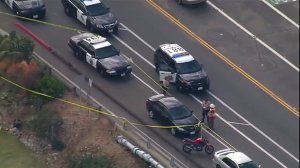 San Diego County Sheriff's Department deputies responded to a call of a stabbing at Rubio's restaurant at the 400 block of South Highway 101 near Via De La Valle around 4 p.m., according to sheriff's spokesman Ryan Keim. They found the man a short distance away.
The man ran to the train tracks and when he was under a bridge, multiple shots were fired, the official said.
Medics took the suspect, who allegedly had stabbed another man in the face at a fast-food restaurant several blocks south of Fletcher Cove, to a hospital for treatment of wounds of undisclosed severity.
The victim was hospitalized with unknown injuries.
Witnesses at the restaurant were not allowed to leave until they were interviewed by detectives, in some cases, this process took more than six hours.
Jennifer Sommer came to the restaurant looking for her daughter after getting a call from her saying she was waiting for detectives.
"She just told us a man stabbed another man an employee of the Rubio's" said Sommer.
During the confrontation with the unidentified suspect, none of the deputies involved were injured.
Roads in the area, including Via de la Villa, were blocked from traffic. Drivers were advised to avoid the area.
Train service was delayed and SDMTS used buses to transport passengers.
#NCTDServiceAlert: Due to police activity at Via De La Valle, bus bridge will be establish for NB COASTER passengers out of Sorrento Valley

— North County Transit (@GoNCTD) May 15, 2017