This is an archived article and the information in the article may be outdated. Please look at the time stamp on the story to see when it was last updated.
SOLANA BEACH, Calif. – As the deadline for the "fiscal cliff" approaches, various groups in San Diego gathered Monday to give lawmakers some extra encouragement.
As Congressman Brian Bilbray's office sat empty in Solana Beach, outside there was plenty of action. Members of the North County chapter of MoveOn.org banded together with other action groups to urge lawmakers to listen as cliff negotiations were underway.
"People don't want cuts to social security, Medicare and Medicaid. Those things shouldn't be on the table," said protester Elizabeth Warren.
"There are impacts beyond the defense industry," said Tony Cherin, a professor of finance at San Diego State University.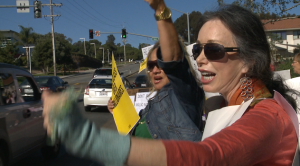 Cherin has kept a close eye on Washington and said if cliff negotiations take a dive, San Diegans will be sure to feel the impact.
"Are we cutting back at Camp Pendleton or are we cutting back down here at the naval station?" said Cherin.  He reiterated sequestration will most certainly carve into the defense industry, but said another sector impacted will be tourism.
"If you're taxes are going to go up, you're going to think twice about that trip to San Diego, to the zoo, Safari Park or SeaWorld," said Cherin.
Cherin said most of the effects will be over a long time.
"Anybody that's got an investment portfolio, anybody that has a 401K, the market value of that probably will take a hit," Cherin said.  "The market will react negatively to going over the fiscal cliff because the market doesn't like uncertainly."
Protester Michael George is concerned that the looming cliff could mean a $2,000 tax increase in the middle class.  George said he understands the deficit must come down, but he said it shouldn't be on his back.
"The middle class is the backbone of this country," he said.
Monday also brought demonstrations  led by nurses to the offices of Representative Darrell Issa and Senator Diane Feinstein.
MoveOn.org said the group has protests lined up until January 1, 2013.