This is an archived article and the information in the article may be outdated. Please look at the time stamp on the story to see when it was last updated.
SACRAMENTO – Ten people were taken to hospitals Sunday after violence broke out between a white supremacist group and counter-protesters, said authorities in Sacramento.
Two of the injured had critical stab wounds, Sacramento Fire Department spokesman Chris Harvey said.
Sac Fire: 7 people transported to hospital. At least 2 have critical trauma/life-threatening injuries. Stab wounds to chest/abdomen. @ABC10

— Frances Wang (#FrannyInMiami) (@FrancesWangTV) June 26, 2016
Can't even speculate what this altercation was about things are still very aggressive out here @FOX40 pic.twitter.com/ha7Ysu3eOk

— Sara Zendehnam (@szendehnam) June 26, 2016
The nine men and one woman were between 19 and 58, the fire department said in a tweet, and all had multiple stab and laceration wounds. It was not clear how many remained hospitalized Sunday night.
The Traditionalist Worker Party, or TWP, whose leader describes it as a "white nationalist" group, had a permit for a noon rally near the state Capitol, said Officer George Granada, California Highway Patrol public information officer with the Capitol Protection Division. Another group showed up "to stop them from carrying on their permit," he said.
"They (counter-protesters) showed up ahead of time in a large group, probably 300 or more," Granada said. "They were positioned around the Capitol to stop them (TWP demonstrators) from carrying on their permit."
Around 11:45 a.m. PT, TWP members and supporters came out to a location south of the Capitol building, he said. It's unclear how many TWP members participated, but they were clearly outnumbered.
"At that point the word spread pretty quick and a mob ran in that direction and they clashed immediately with each other," he said.
Video showed people running and being pursued by others with sticks. Some of the people hid their faces with scarves and masks.
The victims had stab wounds that required critical medical care, said Sacramento Police Department Officer Matt McPhail. Their conditions were not immediately known but it's believed the injuries were not life-threatening. Other people had scrapes and bruises that didn't require hospitalization.
It was unclear which groups the injured were associated with, McPhail said.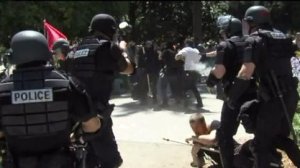 Yvette Felarca, who said she was a member of the group By Any Means Necessary, told CNN she came out to let people know that racist and anti-immigrant viewpoints would not be tolerated.
"They're not welcome," she said of the TWP rally. "If they trip and fall in the process, good. We succeeded in shutting them down."
Matthew Heimbach, leader of the Traditionalist Worker Party, was not at the rally but told CNN that TWP members armed themselves with knives, with blades within the California legal limit. He said they'd been threatened on social media forums. An affiliate group, the Golden State Skinheads, joined them for the rally, he said.
The TWP was charged by a group that describes itself as anti-fascist, he said.
"The anti-fascists used knives, bottles, bricks, and chunks of concrete they broke off a construction site. When they attacked, our men defended themselves to be able to drive the attackers off," he said.
Heimbach said two "comrades" were hurt — one stabbed and the other hit in the face with a bottle.
The TWP called off its rally and a group of counter-protesters remained on the scene for about an hour, McPhail said.
So far, nobody has been arrested, authorities said.
McPhail said a loaded firearm was found on the ground where the brawl occurred, but police did not yet know who it belonged to, why it had been brought to the scene or whether perhaps it was a lost or stolen weapon. The type of firearm found was not disclosed.
According to the Southern Poverty Law Center, which monitors hate groups, the party was founded in January 2015 as part of a right-wing extremist "umbrella group that aims to indoctrinate high school and college students into white nationalism."
The clashes Sunday at the state Capitol apparently were not unexpected by the TWP organizers of the rally. A website promoting the gathering in advance said:
"The upcoming rally this weekend on the 26th promises to be one to remember, due to the fact many stand to stop us yet we refuse to yield!"
Under the party's banner, "many Nationalists will unite and take a stand … Although, our enemies have already openly planned to gather and use violence against us, as always we will stand our ground."
Heimbach appeared on television news reports about a March 1 Donald Trump rally in Louisville, Kentucky, at which anti-Trump demonstrators were harassed.
A federal lawsuit filed against Trump, Heimbach and others alleges Heimbach shoved a woman protester and shouted "leftist scum" at her.
Trump and others have filed a motion to dismiss the lawsuit. The plaintiffs have until Monday to file a response to that motion.
The counter-protesters marched around before the clash, with a leader chanting "When the Nazis and skinheads come to town, what do we do?" and the rest of the group answering, "Shut them down!"
Felarca complained that the TWP was allowed to protest at all.
"They never should have gotten a permit to begin with," she said. "The police were out here protecting them. One of our main chants is, 'Cops and Klan go hand in hand' because we know the police are out there to back them up."
Art Roderick, a CNN law enforcement analyst, said it's common for opposing groups to hold simultaneous protests, but law enforcement usually keeps them separate. It appears the counter-protesters simply overwhelmed the TWP, he said.
"They (the counter-protesters) were there for one reason and that was to use violence to break the other group up," Roderick said. "It looks like anywhere from 100 to 200 of them showed up against 30 of the other."
Vandalizing Capitol property rock is thrown and breaks glass at end of video violence continues @FOX40 pic.twitter.com/mGsgSSX2co

— Sara Zendehnam (@szendehnam) June 26, 2016
woman punched in the face violence has erupted at the Capitol more pepper spray shots fired people scattering @FOX40 pic.twitter.com/OB6hsuJe3n

— Sara Zendehnam (@szendehnam) June 26, 2016
KTXL's Sara Zendehnam contributed to this story.