This is an archived article and the information in the article may be outdated. Please look at the time stamp on the story to see when it was last updated.
SAN BERNARDINO, Calif. -- A gunman killed his wife and an 8-year-old boy in a murder-suicide at an elementary school in San Bernardino, authorities said Monday.  A second student was also shot. He was in stable condition at a local hospital.
Police responded to North Park Elementary School, located at 5378 N. H St., at 10:27 a.m. after receiving reports of an active shooter on campus, according to San Bernardino City Unified School District spokeswoman Maria Garcia.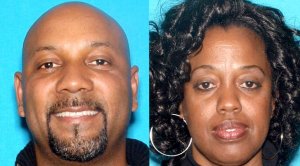 Responding officers found the suspected gunman, Cedric Anderson, and a female teacher dead in a classroom, as well as the two injured students, according to San Bernardino Police Department Chief Jarrod Burguan. Police said the teacher was Anderson's wife, Karen Smith.
Officials said the children were standing behind their teacher when Anderson allegedly opened fire with a revolver on his wife. Police said the children were not the gunman's targets.
The two wounded children were transported by helicopter to a trauma center, school officials said. Student Jonathan Martinez, 8, was airlifted to Loma Linda Medical Center after the shooting where he later died from his injuries, police said. The other student was in stable condition.
The gunman had come to the classroom to visit the teacher, police Capt. Ron Mass said. At some point during the visit, he pulled out a gun and began firing. He killed the teacher and wounded two children, who were near her. He then turned the gun on himself, according to Burguan.
The shooting is believed to be a murder-suicide, police said.
Parents could faced hours-long wait before reuniting with students after shooting, according to school officials.
Two adults are deceased in a classroom, believed to be a murder suicide. We believe the suspect is down and there's no further threat.

— Jarrod Burguan (@RetSBPDChief) April 10, 2017
We believe this to be a murder suicide. Happened in a class room. Two students have been transported to the hospital.

— Jarrod Burguan (@RetSBPDChief) April 10, 2017
Students at the school are be taking to cajon high school for safety.

— Jarrod Burguan (@RetSBPDChief) April 10, 2017
Police are lining the perimeter of North Park elementary where there's an active shooter pic.twitter.com/HTUAKYEGsH

— Rick Sforza (@RickSforza) April 10, 2017
Helicopter video showed students at North Park Elementary School being evacuated. Many were holding hands as they were led across a grassy field and a playground. Police loaded the students on to waiting school buses.
The Disaster Distress Helpline 800-985-5990 provides immediate crisis counseling to people affected by the shooting in San Bernardino.
SAN BERNARDINO: #SBCoFD on scene mult GSW victims at North Park School. Triage and victim count taking place. ^eas

— SB County Fire (@SBCOUNTYFIRE) April 10, 2017
This slideshow requires JavaScript.