This is an archived article and the information in the article may be outdated. Please look at the time stamp on the story to see when it was last updated.
SAN DIEGO — The movie is called CESAR CHAVEZ, AN AMERICAN HERO. It opened nationwide Friday. Chavez's oldest son, Fernando, attended the San Diego premiere.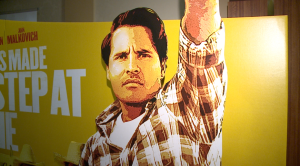 It was part of a fundraiser staged by the United Farm Workers and its foundation, which were established by the civil rights leader. Fernando Chavez was the guest of honor. The event also included actors from the film, people associated with its production and local dignitaries.
The movie depicts 30 years of Cesar Chavez's life and shows how he joined the movement to help farm workers and how he pushed for equality of all workers in this country.
"It's a movie about an individual who really worked to make society better for everybody, whether you're Latino, African American or Anglo, that's why the movie is called Cesar Chavez, an American Hero," said Fernando Chavez.
Fernando also said his father would have been reluctantly accepting of the film considering his father was very humble and not too crazy about the limelight.