This is an archived article and the information in the article may be outdated. Please look at the time stamp on the story to see when it was last updated.
CHULA VISTA, Calif. – A motorcyclist was killed following a hit-and-run crash in Chula Vista Monday, police said.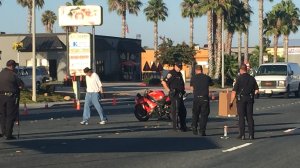 Chula Vista police said the body of a man in his 30s was in the middle of the 2400 block of Main Street around 2:15 p.m.
Investigators said a vehicle must have pulled out of parking space at a business on Main Street when the motorcyclist was driving passed. The two vehicles must have collided and the car apparently drove off.
Police were asking for anyone who may have witnessed the deadly crash to contact them.
There was no suspect or vehicle description released as of 6 p.m.
---
The family of the motorcyclist identified the man killed in the crash as Pablo Rosa-Velez. They set up an online fundraiser to help with burial costs.