This is an archived article and the information in the article may be outdated. Please look at the time stamp on the story to see when it was last updated.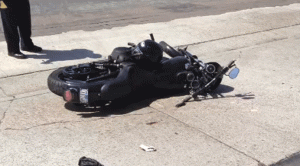 SAN DIEGO — A motorcyclist was seriously injured Tuesday in a collision on a Kearny Mesa road.
The 25-year-old man was riding to the north in the 4800 block of Shawline Street when an 85-year-old motorist on his way to a grocery store in the neighborhood made a left turn into the path of the two-wheeler about 1:30 p.m., according to San Diego police.
Medics took the motorcyclist to a hospital for treatment of an open fracture to his left leg, SDPD Officer Dan Lasher said. No other injuries were reported.