This is an archived article and the information in the article may be outdated. Please look at the time stamp on the story to see when it was last updated.
LA MESA, Calif. – Highway patrol officers don't make stops like this every day – the Easter Bunny riding a shiny red motorcycle near La Mesa was pulled over.
California Highway Patrol officer Adam Griffiths pulled over a motorcyclist with a sidecar who was dressed as a giant rabbit on westbound Interstate 8 at Jackson Drive Saturday.
The man was on his way to a charity event, but was not wearing a helmet, CHP East County PIO Brian Pennings said.
"If you ride a motorcycle, you have to be aware of your total surroundings," explained Pennings.
Pennings' partner in his squad car pulled up and snapped a picture of the giant rabbit, after he hopped off his vehicle and got a lecture from Griffiths. The photo was widely distributed in the media, and has been getting worldwide play in the blogosphere.
"Griffiths told him it was a serious situation and that it wasn't a joke," Pennings said. "He explained to him the safety ramifications of not having a helmet.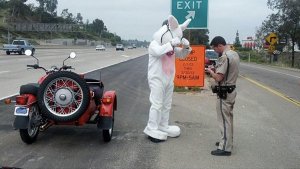 The CHP officer told the giant bunny "his outfit was a visual impairment, he was not able to be aware of his surroundings, and therefore he threatened his own safety, and that of others."
Pennings said safe motorcyclists constantly need to turn their heads to observe traffic to their side or behind them.
The rabbit wasn't issued a citation by Griffths. He just got a warning.
Then he hopped away, with his head in the sidecar.
He didn't want to be late to a very important date.