This is an archived article and the information in the article may be outdated. Please look at the time stamp on the story to see when it was last updated.
SAN DIEGO — A woman who tried to drown her 10-month-old daughter in the tub at her City Heights apartment last year was sentenced Monday to eight years in state prison.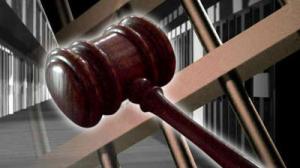 Whitney Holman, 23, was also ordered to stay away from her daughter, Journey, for the next 10 years.
Deputy District Attorney Michelle Ialeggio said Holman "lost the right to have contact with her daughter" when she tried to kill her on May 10, 2013.
Ialeggio told Judge Polly Shamoon that the case was a "tragedy with a silver lining" because the victim  has made a miraculous recovery.
The prosecutor said a San Diego police officer found the completely lifeless infant submerged in six inches of water and performed successful CPR. Authorities said the child had been under water for about five minutes.
Dr. Cynthia Kuelbs, a pediatrician at Rady Children's Hospital, said Journey was admitted in critical condition because of fluid on the lungs and possible neurological injuries due to a lack of oxygen to the brain.
Regarding the defendant, Ialeggio said Holman suffers from long-term mental illness and had been diagnosed with postpartum depression with psychosis.
The defendant, who pleaded guilty last month to felony child abuse causing great bodily injury, had gone off her medications prior to the near- drowning, the prosecutor said.
It was Holman who called 911.
"I just drowned my baby in the bathtub," she told a 911 operator in a tape-recorded call played during her preliminary hearing last December.
"You did this on purpose?" the operator asked.
"Yes," the defendant answered.
"Is she still breathing?" the 911 operator asked the defendant.
"I don't think so," Holman responded. "I don't want her to suffer like I've suffered."
When the operator asked Holman if she could take the baby out of the tub, Holman responded, "I don't want to. I want to make sure that she's dead."
When told help was on the way, Holman told the operator, "I don't need help. I need to be locked away."