This is an archived article and the information in the article may be outdated. Please look at the time stamp on the story to see when it was last updated.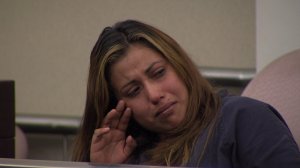 CHULA VISTA, Calif. — A Chula Vista woman who crashed a minivan into Otay Reservoir while drunk, killing her 5-year-old daughter and another child, was sentenced today to eight years in prison.
Arlene Anna Hernandez, 23, pleaded guilty in March to charges of gross vehicular manslaughter while intoxicated and DUI. She could have received up to 12 years in prison.
"I'm so sorry for all the pain that I've caused you," Hernandez said to the family of 5-year-old Guiliana Figueroa. "I'm so sorry that I took Guiliana away from you. I take full responsibility for the death of my daughter, Lesette (Silva), and the death of Guiliana."
Defense attorney Jonathan Jordan argued that the eight-year term was appropriate given the fact that Hernandez had no prior record.
Deputy District Attorney Mary Loeb argued that the defendant deserved the aggravated term of 12 years, saying a day of drinking and driving culminated at 6 p.m. with her car crashing into the water.
All parties agreed that no amount of time in custody for Hernandez could bring the victims back.
"This is a particularly tragic case," said South Bay Judge Theodore Weathers, noting the victims couldn't get their seat belts off once the car became submerged in the water.
Authorities said Hernandez lost control of her 2005 Kia Sedona on eastbound Otay Lakes Road last Aug. 5. The vehicle tumbled down an embankment near Wueste Road, overturned, landed on its roof in the water and sank, according to the California Highway Patrol.
Hernandez and her front sear passenger, Eric Figueroa, got out, but Figueroa's daughter, Guiliana, and the defendant's daughter, Lesette, were not pulled out of the vehicle until several area residents and Border Patrol agents arrived. The children were airlifted to Rady Children's Hospital, where they were declared dead.
Guiliana Figueroa's mother, Natasha, told Hernandez "I would have died myself trying to save my child."
The mother called the defendant "careless and selfish," a person "who couldn't go a day without a drink."
CHP Officer Brad Clinkscales testified at a preliminary hearing in November that Figueroa told him he met Hernandez a few months earlier and their daughters played together.
On the day of the crash, Hernandez and Figueroa arranged a "play date" with their girls and met at a Ralphs grocery store, Clinkscales said.
Figueroa bought a six-pack of beer, and Hernandez drove them to a park, where they had about three beers each, the officer said Figueroa told him.
Hernandez saw some skydivers and said she wanted to give her daughter an up-close look, so they drove toward the area, Clinkscales said Figueroa told him.
Figueroa said he was blindfolded during the drive because Hernandez had a "surprise." He said he didn't know anything was wrong until he heard yelling and minivan careened out of control.
Hernandez's blood-alcohol level was measured at 0.13 percent after the crash, the officer said.