This is an archived article and the information in the article may be outdated. Please look at the time stamp on the story to see when it was last updated.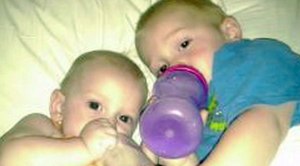 EL CAJON, Calif. — A woman whose two toddlers drowned in a swimming pool at a friend's home near Mount Helix, where a cannabis-cultivation operation was found, pleaded not guilty Monday to charges of child endangerment, cultivation of marijuana and possession of marijuana for sale.
Tassie Anne Behrens, 27, faces 13 years and four months in prison if convicted, said Deputy District Attorney Chantal De Mauregne.
The defendant was ordered held on $500,000 bail, the prosecutor said.
About 9:45 a.m. on May 13, Behrens awoke at a home where she was staying at 10011 Sunset Ave. in unincorporated La Mesa and found her 16-month-old daughter, Harley Bradford, and 2-year-old son, Jason Bradford Jr., floating unconscious in the backyard pool, according to sheriff's officials.
The mother pulled the toddlers out of the pool, and she and a friend who lived at the house drove them to a nearby fire station, authorities said.
Paramedics tried to revive the children, then took them to Sharp Grossmont Hospital, where Harley died shortly after arrival, authorities said. Jason was transferred to Rady Children's Hospital and died later that night.
Behrens initially told authorities that the children were found in the pool at a mobile home park on Jamacha Boulevard in Spring Valley, but later admitted she found them at her friend's Sunset Avenue residence, sheriff's Lt. Glenn Giannantonio said.
She apparently told the initial story in an attempt to keep the friend from getting into trouble for not having a fence around the pool.
A subsequent search of the residence turned up a marijuana grow in the basement, Giannantonio said.
The home's resident Larry Dangelo, 44, was arrested on suspicion of child abuse and drug offenses, including cultivation and possession of marijuana for sale, according to the lieutenant.
Giannantonio said that after a thorough investigation by homicide detectives and the Narcotics Task Force, an arrest warrant was issued for Behrens and she was taken into custody last Thursday.
She has a bail review set for Friday and an Oct. 7 preliminary hearing date.
Her children's father, Jason Bradford, 35, is serving a 60-month prison sentence in Phoenix for conspiracy to traffic methamphetamine.