This is an archived article and the information in the article may be outdated. Please look at the time stamp on the story to see when it was last updated.
SAN DIEGO – A Senate bill that would prohibit car dealers from selling, renting or loaning used cars that are under a safety recall until they've been fixed stalled in committee Tuesday.
Fe Lastrella, whose family members were killed in a tragic car accident, was among those who testified in support of the bill. The accident happened August 28, 2009 on state Road 125 in Santee.
Lastrella's daughter, Cleofe, son, Chris, granddaughter, Mahala, and son-in-law, California Highway Patrol Officer Mark Saylor, were killed in the cra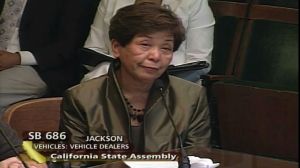 sh. Saylor, who was off-duty at the time, was driving a loaner from Bob Baker Lexus in El Cajon.
"The dealership loaned him a 2009 Lexus ES350 to drive while the dealership fixed his car," said Lastrella. "The loaner Lexus sped out of control. My son Chris Lastrella called 911."
In that 911 call, Chris Lastrella told the operator, "our accelerator is stuck."
The car crashed at the intersection of Mission Gorge Road killing everyone inside.
"Chris' last words were 'hold on, pray pray, pray,'" said Fe Lastrella.
Later, family members would learn the loaner was under a safety recall. The recall involved the floor mats, which could slip if not properly installed and cause the gas pedal to get stuck.
Senator Hannah-Beth Jackson is now backing Senate Bill 686, which would also be known as the Saylor-Lastrella Auto Safety Act.
"This measure prohibits car dealers and rental car companies from selling, renting or loaning used cars to consumers when they're under a federal safety recall and the safety defect has not been fixed," said Jackson.
Under federal law it is illegal for car dealers to sell new cars when they're under a federal safety recall. But Jackson said when it comes to used cars it's up to the states.
"As a mother and grandmother I cannot comprehend why anyone would oppose this bill," said Lastrella. "Everyone should care about the safety of their customers. Everyone should be able to trust that when they buy a car, rent a car or are loaned a car by a licensed dealer the car is safe."
Jackson said the bill has support from consumer groups and safety organizations including the Safe Kids California coalition, as well as auto insurer State Farm.
She said the major opposition is the California New Car Dealers Association and AutoNation.
Following the testimony, the bill was stalled because it lacked the votes needed to pass out of the Assembly Business and Professions Committee.
Jackson vowed to not give up the fight, in hopes of moving the bill through the state legislature in January.
"We lost the battle today, but I will continue to fight for this vital consumer protection," Jackson said.