This is an archived article and the information in the article may be outdated. Please look at the time stamp on the story to see when it was last updated.
RANCHO BERNARDO, Calif. — A woman went to the hospital after a swarm of bees attacked her as she was walking her dog with her child in a stroller.
The attack happened early Tuesday afternoon on Poblado Road in Rancho Bernardo.
Todd Lackner said he was working at home when he heard a woman screaming for help.
"I looked out the fence here and I could see there was a woman lying on the ground — kind of swatting stuff," said Lackner.
Lackner jumped in his car and drove to the woman who was lying on the sidewalk with bees all over her.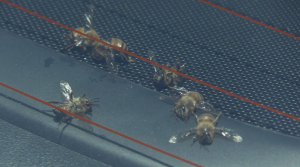 "They were just coming at her. It looked like she had a beard — swatting them away," said Lackner. "I yell at her — 'get in my car now!' She said, 'I can't – my baby!'"
Lackner said the mother could not get her child out of the covered stroller. Then bees started getting into the car and that is when he made a quick decision.
"I just pushed the stroller down the street. I was swatting them off the stroller and off my face. They were in my ears and nose — a couple in my mouth. I bit one," Lackner said.
The neighbor said the woman managed to get up and walk down the street.
Police and fire crews arrived and shortly after, the bees flew away into a nearby yard.
A pest control crew sprayed and killed the bees.
The stung woman was taken to the hospital with unknown injuries. Her child, thanks to a covered stroller, appeared to have been unharmed — as well as the dog.
Lackner, who was also stung more than a dozen times, said he would do it again.
"Anyone would have done it. There's a poor woman out there screaming."