This is an archived article and the information in the article may be outdated. Please look at the time stamp on the story to see when it was last updated.
SAN DIEGO — A young woman accused of stealing a San Diego police cruiser, then leading authorities on a freeway chase that ended at a rest stop north of Oceanside, pleaded not guilty Wednesday to a half-dozen felony charges, including theft of an emergency vehicle and evading arrest.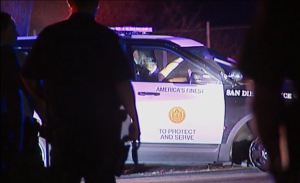 Felicitas Flores, 22, was ordered held on $275,500 bail.
Flores' mother said her daughter is mentally ill and needs help, having been diagnosed with paranoid schizophrenia at age 16.
"She's not in her right mind, she's not thinking right, " Annebell Flores said of her daughter.
Deputy District Attorney Michael Runyon told Judge Jay Bloom that Flores got into an unattended San Diego police cruiser near 17th and K streets in the East Village area of downtown about 11:30 p.m. Friday and drove off.
Runyon said authorities pursued Flores on northbound Interstate 5, sometimes at high speeds, before laying out spike strips north of Carlsbad.
Flores kept driving to a rest stop north of Oceanside, where she was boxed in by emergency vehicles, Runyon said.
As she tried to back up, the defendant sideswiped a California Highway Patrol vehicle with two officers inside, but neither was hurt, according to the prosecutor.
Another officer was out of his San Diego police car as Flores drove forward and rammed his patrol vehicle, Runyon alleged.
Flores — a documented gang member — was on community supervision after serving time in prison, the prosecutor said.
In addition to theft of a police vehicle and felony evading, Flores is charged with three counts of assault with a deadly weapon on a peace officer and being a felon in possession of a firearm.
She faces about 15 years in prison if convicted.
The defendant will be back in court Aug. 29 for a readiness conference and Sept. 3 for a preliminary hearing.