This is an archived article and the information in the article may be outdated. Please look at the time stamp on the story to see when it was last updated.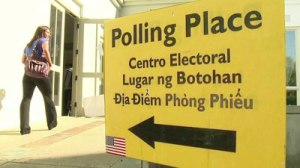 SAN DIEGO – More bilingual Chinese and Vietnamese volunteers are needed to work at polling places for the city of San Diego's Nov. 19 special mayoral election, the county Registrar of Voters said Wednesday.
"The ROV has more than 2,200 volunteers who have committed to serve their community at the polls this year, but we still have an urgent need for 50 more Chinese bilingual and 30 more Vietnamese bilingual poll workers," said Michael Vu of the Registrar of Voters.  "Our bilingual volunteers help citizens who are not yet proficient in English to vote at the polls."
Bilingual poll worker volunteers can earn a stipend of $90 to $110 for the day's work.
The registrar's office will provide training for Chinese and Vietnamese speakers.
Polling place volunteers must be U.S. citizens, a registered voter in California and able to read and write the English language.
For questions about being a poll worker, where the polls will be located in the city of San Diego and voter registration status, call (858) 565-5800 or visit www.sdvote.com.