This is an archived article and the information in the article may be outdated. Please look at the time stamp on the story to see when it was last updated.
SAN DIEGO – When you look at Padres center fielder Cameron Maybin you'll see more of him as he added 15 pounds of muscle during the off-season.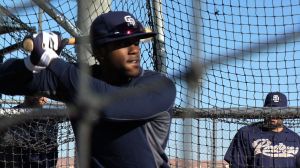 "I just really took initiative to hit the weights hard and do some heavier lifts," Maybin said. "At the same time, make sure I can maintain my explosiveness and learn how to carry that weight around."
Maybin said he now carries 217 pounds on his 6-feet, 3-inches frame.
He said he worked out twice-a-day during the off-season and admitted he thought about the new, shorter, outfield fences at Petco Park with every workout.
"Absolutely, I wouldn't lie and tell you I wasn't," Maybin said. "I want to take advantage of that. I want to be able to miss-hit a ball and still hit it out where as opposed to last year, it was tough to do that."
Maybin, who turns 26 on April 4, not only lifted weights, he lifted food nonstop. But not the bacon-cheeseburgers which he said he ate before nearly every game last season.
"Peanut butter sandwiches.  Peanut butter and jelly.  Like four a day," Maybin said.  "And I don't even like peanut butter, it's terrible, but you've got to do what you've got to do, man.  It's a great source of protein so I crushed it."
Maybin hopes the added bulk will help him crush pitches.
Though inconsistent on offense the last two seasons with the Padres, Maybin has built a reputation of providing outstanding and spectacular defense. He said he would love to win a Gold Glove in 2013, but knows he needs more than just a good glove.
"The last two seasons I really think I put up Gold Glove seasons, but nowadays you have to hit, too to get that award," Maybin said. "My biggest thing is knowing what kind of hitter I want to be and not letting anyone else dictate what kind of hitter I want to be.  In the past, I think I've been a little too coachable wanting to try this and try that.  I've learned in the past year that I've got to be who I want to be and let the chips fall where they may.  I'm excited to be able to do that now."
And he hopes it's worth the new weight.