This is an archived article and the information in the article may be outdated. Please look at the time stamp on the story to see when it was last updated.
SAN DIEGO – The San Diego Unified School District announced Friday it's joining forces with the San Diego Police Department to link security camera systems and increase cameras in schools.
"We look at a complement of security staff and training, as well as security camera to provide each school with what it needs," said SDUSD police Chief Ruben Littlejohn.
A grant will allow the district to have around 1200 cameras installed by July 2013.
"Now, I know who I'm looking for whether I'm on route or when I get on scene," said SDPD Assistant Chief Boyd Long. "These cameras will provide us with real time information as the officer's responding."
Littlejohn also responded to the NRA's statement of an armed police officer at every school, the chief called the idea unnecessary.
"To have a gun on every campus seems to be to be somewhat excessive when we talk about the number of schools and how that's going to be funded," said Littlejohn.
Littlejohn said currently the district has 37 sworn police officers and 18 community officers on the district force.  The officers are part of mobile patrols or stationed at various campuses.
"When I look at what we're already doing, I know our schools are secure," said Littlejohn.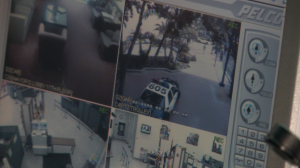 Willie Ritchey lines up outside of Wedgeforth Elementary every day to pick up her great-granddaughter.
"As soon as she steps right out front there, I'm going to be right here to grab her," said Ritchey. "It's supposed to be safe and it's not. She and her friend Johnnie Walker have been debating school safety."
Ritchey said more cameras in schools are a good idea, but police presence is better.
"I think the kids would feel more secure if they had somebody watching over them," said Ritchey.