This is an archived article and the information in the article may be outdated. Please look at the time stamp on the story to see when it was last updated.
SAN DIEGO – A Rancho Bernardo woman is recovering after she and her newborn baby were caught in the middle of a bee swarm.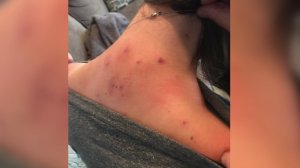 Tuesday afternoon, Carly Danney was taking her baby Wes and dog Miley out for a walk near their home. When they made their way down Poblado Road, hundreds of thousands of bees surrounded Carly's face, her husband Jeremy told FOX 5.
At first, it was just one bee buzzing by her head. Then, within seconds, he said it turned into a horror movie.
"On her scalp, on her face. It was on her nose, eyelid, lip, all over her neck, her arms, her legs, everywhere," Jeremy said.
Carly screamed and called for help. Within minutes, neighbor Todd Lackner showed up to help. He tried to load Carly and the baby inside his car, but then the bees started getting inside. Lackner quickly pushed the stroller away from the swarm.
Carly was taken to a hospital to be treated for more than 150 bee stings. Her doctors said it was the worst attack by bees they had ever seen.
"It's been a very, very rough 48 hours," Jeremy told FOX 5.
Neighbors told FOX 5 the bees came from the backyard of another home.
"I don't know if they were actually raising bee hives on their own or if this was a random bee hive," Sarah Briggs said.
The family can't help but count their blessings because out of the large swarm, not a single bee touched the baby.
"He's healthy and somehow he got out of it unscathed but we're so grateful for the man that heard Carly screaming and calling for help," Jeremy said.
The family dog Miley was stung about 50 times and is also recovering.
FOX 5 reached out to the homeowners' association to check on people keeping bees but has not received a response.