This is an archived article and the information in the article may be outdated. Please look at the time stamp on the story to see when it was last updated.
LOS ANGELES – A mother was fighting to keep her 19-year-old son on life support on Sunday after he was shot last week in South Los Angeles.
Lance Corporal Carlos Segovia Lopez was visiting his girlfriend's home near 31st Street and Western Avenue around 11 p.m. last Friday when he noticed a group of people near his car, according to police.
Segovia confronted the group and asked them to get away from his car before being shot in the head, his family told KTLA.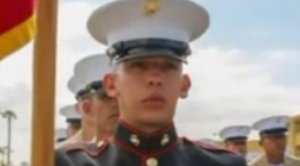 The Camp Pendleton Marine was rushed to Dignity Health California Hospital Medical Center in serious condition, where he was declared brain dead, according to officials.
His mother, Sandra Lopez, is fighting to have him transferred to a different hospital where there is less pressure to take him off life support.
"My son did not sign into the Marines to give up," said his Lopez. "A Marine never gives up. I know what my son is going through. So I choose to ask the doctor to take another test and they refuse to do that."
Family and friends said Segovia was an active volunteer in his community, helped the homeless and encouraged at-risk youth to join the Marines.
"He was here this weekend to help clean up streets or do whatever they were going to do," said a family friend.
The shooters are still outstanding, according to police.
"Just stop the violence. He is a good kid, he didn't have any enemies. He was always out there helping, I just don't understand how someone can just shoot him in the head like that," said Claudia Perez, Segovia's stepmother.