This is an archived article and the information in the article may be outdated. Please look at the time stamp on the story to see when it was last updated.
ESCONDIDO, Calif. --  A 5-year-old girl was killed and at least eight other people were injured early Thursday in a mobile home fire sparked by faulty Christmas lights, authorities said.
The fire at 541 West 15th Avenue, inside the Greencrest mobile home park, was first reported to authorities at 12:35 a.m.
At least eight people were transported to local hospitals for treatment.  One, an 11-year-old boy, was given CPR while being transported to Rady Children's Hospital, where he remains in a critical medical status, Escondido fire officials said.
Numerous residents witnessed the heroic efforts of first responders as neighbors lived close in proximity to the fatal fire.  A vehicle parked nearby was exposed to the fire.  No additional residential units were damaged by the heat and flames.
Escondido Fire Batallion Chief Russ Knowles noted difficulties of attacking the fire as crews arrived to flames pouring out of the front of the trailer.  Escondido Police were making rescues of residents trapped inside the inferno before fire units arrived on scene.
Fire officials told FOX 5 that the cause of the fire appeared to be a faulty electrical cord to lights on a Christmas tree.
A friend told FOX 5 that the family is named Flores. The father was not in the home when it burned, but the mother, her three children and five other relatives were in the home.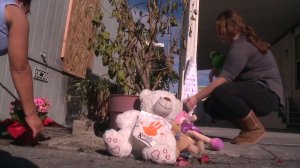 Candles, flowers, cards and teddy bears marked a growing memorial set up Thursday night in memory of the young girl.
The friend has set up a gofundme.com page to help the Flores family with funeral and medical expenses and replace lost property.